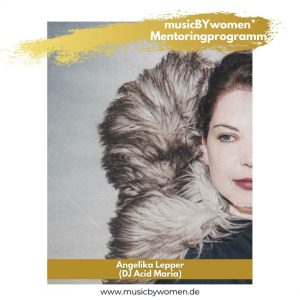 Angelika Lepper aka DJ ACID MARIA steht für experimentell-tanzbare elektronische Musik und wird seit Anfang der 1990er Jahre in Clubs, auf Festivals und für Kulturprojekte international gebucht.
Sie war Resident im Ultraschall Club in München und legte in Clubs in Mexico City, Chicago, Tokyo, Nairobi, Istanbul, Warschau, Wien, Amsterdam, Offenbach, Zürich usw. auf. Ihre Musik sucht Anknüpfungspunkte, Verbindungen, Reibungen zwischen Stilen und Epochen; sie interessiert sich für Subkulturen und deren ästhetische Konzepte und ihre Verbindung zu anderen medialen Künsten, ihren Codes und Ausdrucksformen. Als Figur tritt sie u.a. in Thomas Meineckes Roman »Musik« in Erscheinung.

Sie ist Gründungsmitglied der Plattform female:pressure, die seit Ende der 1990er Jahre für bessere Vernetzung und Sichtbarkeit von Frauen in der elektronischen Musik und Kunst sorgt.
Nach ihrem Diplom in Medienkunst und Philosophie und Ästhetik in Karlsruhe lebte sie zwischen 2004 und 2014 in Berlin und arbeitete von dort aus als DJ, Künstlerin und Dozentin an verschiedenen Hochschulen (u.a. Filmuniversität Potsdam Babelsberg, Bauhaus Uni Weimar, UCC Beijing). Sie forscht und schreibt über Aneignungen in der Bildenden Kunst und interessiert sich gerade besonders für Hacking, Modding, Circuit Bending als künstlerische Strategie.
Sie lebt mit ihrer Tochter am Ammersee nahe München.
https://www.facebook.com/djacidmaria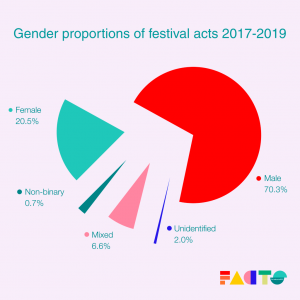 The female:pressure FACTS survey is a continuous project, undertaken by volunteer members of the female:pressure network, that quantifies the gender distribution of artists performing at electronic music festivals worldwide. FACTS 2020, released on International Women's Day 2020, is the fourth edition of the survey, which was first published in 2013, and updated in 2015 and 2017.
Mehr Info: https://femalepressure.wordpress.com/